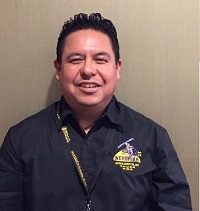 Vicente (Vince) Herrera
Sacramento Rebar Superintendent
Vince was born in Actopan Hidalgo, Mexico. "Where God created true warriors" as he would say. He is the oldest of six children. Vince married his wife, Gabriella in 1996 and was invited by her family to join them working in rebar.
Vince says "this wasn't your nice in laws trying to help me prosper, no, these guys were out to get me for taking their precious niece. They had me working like a donkey from dusk till dawn. Little did they know – I liked it"
Vince's has three children with his wife, and his growing family was inspiration for him to spread his wings. In 2002, he was hired on as a foreman at Nehemiah Rebar. Vince says "it was my good looks that got me the position". Although, Kevin would argue it was definitely his experience as a rebar foreman prior to coming aboard that got him the position.
Vince has been working with Nehemiah Rebar since May 2002. He runs rebar jobs in Sacramento and the Bay Area. Vince is a dedicated rebar superintendent, he even has a tattoo of his pliers on his arm. He says "Sometimes I feel bad getting a paycheck – I love my work so much- it feels like I haven't worked in years."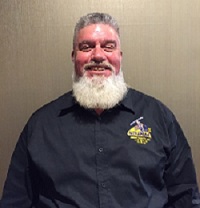 Eddy Zenor
Los Angeles Rebar Superintendent
Eddy was born and raised in San Diego, Ca. He enjoys hunting and fishing, and motorcycle riding. He is a third generation iron worker, following his grandfather and his father's footsteps. Eddy says "it's in my genes." He has two adult children, a son and a daughter ages 28 and 24.
Eddy has been working in rebar in Southern California for 30 years. He says his proudest accomplishment is a brick at Petco Park in San Diego where the Padre's play that has his name and a little hard hat engraved into it. He takes great pride seeing the finished products of the things he's helped build. He came to Nehemiah Rebar in 2014 when his brother, Eric Zenor asked him to join our team. He ran jobs as a foreman until 2017, when he became a Superintendent for our Los Angeles Rebar division.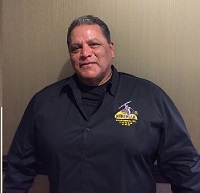 Frank Louis Siqueiros Sr.
Fresno Rebar Superintendent
Frank was born in Fresno, Ca and was raised in a small town called Ripperdan, Ca. Frank describes himself as a proud farm laborers son. He is one of nine children born to his parents. Frank says he learned the meaning of hard work as a child; a trait he values to this day. He started rebar searching for a way to better provide for his family, and has been an iron worker for 30 years. Frank says "I still love and enjoy what I do for a living, and who I work for." He started working for Nehemiah Rebar in 2014, and has been running Fresno and Central California Rebar jobs since.
Frank enjoys reading about history. He also enjoys keeping with current events and astronomy. He has an eye for photography, and finds the true beauty in the simple things. When he's not tying rebar, he's holding a camera.