Our management team from all over California, Nevada, & Colorado met in Las Vegas last weekend to attend World Of Concrete and for some team building and training. Their agenda included attending the exhibits at the convention center, having dinner at The Henry resturauant in The Cosmopolitan Hotel, and training excercises & a management meeting on Saturday.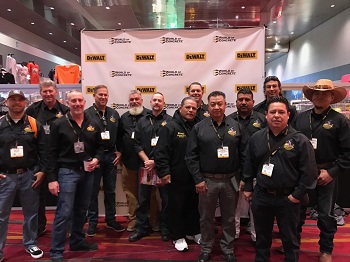 While our management team explored World Of Concrete, the spouses got to enjoy a day of shopping! From their various hotels, the wives were transported via limo ride to the Las Vegas outlet mall, where they were able to get to know eachother on a fun-filled shopping trip.
Shane, our Northern Nevada Rebar Superitendent, said what he liked best about the experience was "Being together with everybody. And hearing Kevin speak about what his vision of the future for Nehemiah Rebar. It lets me know that I made the right choice coming here (to Nehemiah Rebar) and I love seeing all the architecture of the buildings in Vegas" Shane heads our Nevada Rebar division and is one of our newest Superintendents, it was his first year attending World of Concrete with our management team.
Eric, our Southern California Rebar Superintendent has attended World of Concrete with Nehemiah Rebar for three years. His favorite part of the trip is "Having dinner with the Superintendents and Management on Friday night".
Our team flew out of Vegas highly motivated and excited for the year to come. With everyone united, we are able to push forward on some big and exciting moves for us as a company. There are great things ahead for Nehemiah Rebar!