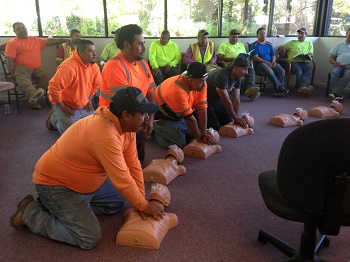 Concrete reinforcing is inherently a dangerous profession and we want to ensure our employees are as safe as possible. As a growing company, safety has become an extremely important aspect of our development. Being proactive about our safety program and trainings helps us reduce the number of incidences that can occur on the jobsite.
Of course, our number one priority is to make sure that injuries and accidents do not happen. However, we also want our men to be prepared in case an accident does happen. That is why we train our employees in general safety practices to prevent incidences and first-aid / CPR so they can be prepared for an accident if it does happen.
There's no reason why safety can't be fun also. Our Northern California Rebar division got treated to a pizza lunch with snacks and sodas during their four hour first aid / CPR certification course at our corporate office in Shingle Springs.